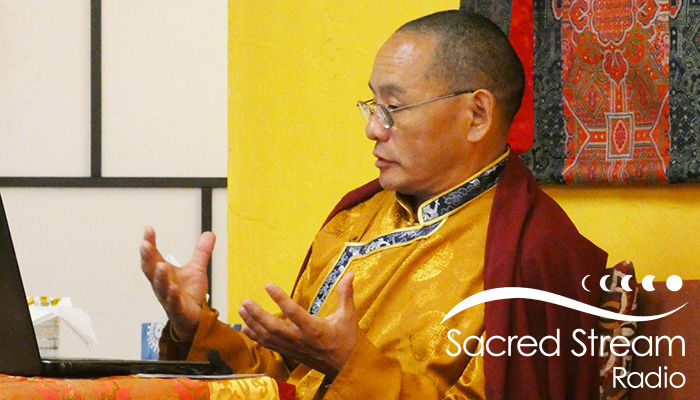 Podcast: Episode 84: Geshe Namgyal: Holy Women of Great Perfection
May 10, 2022
On this episode, Laura Chandler interviews Geshe Dangsong Namgyal, the founder of Kungsong Gar Meditation Center in Santa Cruz, and author of the book, Holy Women of Great Perfection: Thirty Signs and Meanings of Ultimate Nature in the Ancient Tibetan Tradition. And she is joined by a special guest co-host, Isa Gucciardi, Ph.D., author of The New Return to the Great Mother and Founding Director of the Foundation of the Sacred Stream.
In this conversation, we talk with Geshe Namgyal about his book, teachings, and the practice of Pure Dzogen. He explains why he chose to highlight the wisdom and teaching of female deities in his book, particularly in light of the changing, but still strongly patriarchal tradition of Tibetan Buddhism. He also talks about the pan-Buddhist practice of Rime, a movement in Tibetan Buddhism that is non-sectarian, as well as the practice of Pure Dzogchen. He offers that no matter what one's background—country, gender, age, race, beliefs or history of painful experiences and emotions, the study and practice of the Pure Dzogchen teachings can help people discover true peace, strength, and fearlessness in life; and confidence in an eventual, positive death and rebirth experience.
To learn more about Geshe Namgyal and Kungsong Gar Meditation Center, visit kunsanggarcenter.org.
LIKE WHAT YOU HEAR? SIGN UP FOR FREE UPDATES!