Podcast
Sacred Stream Radio Podcast
About
Laura Chandler hosts this monthly podcast series that features interviews with thought leaders, artists, healers, and other interesting humans. Subscribe to the Sacred Stream Radio Podcast on Spotify, Apple Podcasts, Google Play, Stitcher, or stream below.
---
A Note from Laura Chandler
I want to take a moment to thank all of our generous supporters and volunteers who help make the Sacred Stream Radio Podcast possible. I began this podcast as a labor of love and to share the stories of the remarkable, talented, famous and not-so-famous people I have the great privilege of meeting and engaging with as a result of my work in the world. These are people I am moved by and who inspire me and I hope that they move and inspire you, too.
---
Support the Podcast
If you find these episodes helpful, please consider making a contribution so that we can make more available. Any amount, no matter how small, goes a long way to helping us continue this very important work.
---
Be a Sponsor
You or your company can also sponsor one or more episodes. Find out how more emailing us at info@sacredstream.org. Many thanks to our 2020 sponsors – Leadership Landing, Riverene, Ideas with Impact, and Charlotte von der Hude.
---
Latest Episode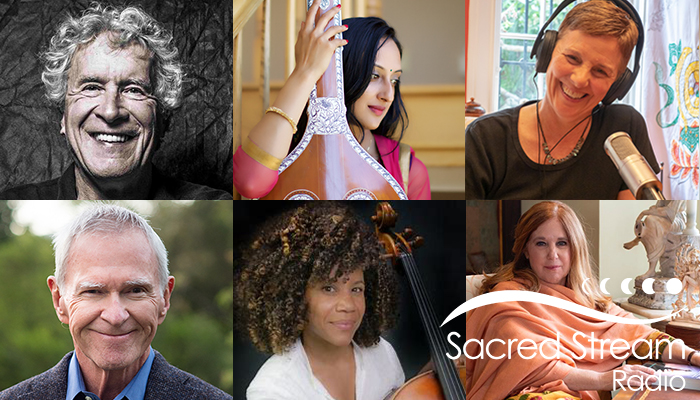 Podcast: Episode 69: 2020: A Retrospective
January 18, 2021
Description: 2020 was a year filled with unprecedented events, from political and social unrest, to a pandemic that has changed how we live our lives for the foreseeable future. On this episode, podcast host Laura Chandler takes a look back at the year, re-visiting highlights from past interviews. We'll hear from bestselling authors Carol Kline, Gay Hendricks, John Perkins, Dena Merriam, and Rachel Harris. Our featured music is also from these past episodes and includes Lisa Lynne, Aryeh Frankfurther, Mia Pixley, Jaya Vidyasagar, and the Kitka Women's Vocal Ensemble.
The Sacred Stream Radio Podcast is brought to you by the Foundation of the Sacred Stream and Red Cow Productions. You can download or subscribe to this podcast anywhere you get your podcasts or stream it at sacredstream.org/podcast. This program would not exist without the help of some very special people. I want to thank my staff, Cody Humston, Sherri Serino, Katie Healey, and Clementine Moss. If you would like to support this podcast, please consider writing a review and sharing with friends. You can also make a donation to help cover our production costs and help us continue to make free programs like this one widely available.
Featured Episodes
Bonus Episodes
Previous Episodes