Podcast
Sacred Stream Radio Podcast
About
Laura Chandler hosts this monthly podcast series that features interviews with thought leaders, artists, healers, and other interesting humans. Subscribe to the Sacred Stream Radio Podcast on Spotify, Apple Podcasts, Google Play, Stitcher, or stream below.
---
A Note from Laura Chandler
I want to take a moment to thank all of our generous supporters and volunteers who help make the Sacred Stream Radio Podcast possible. I began this podcast as a labor of love and to share the stories of the remarkable, talented, famous and not-so-famous people I have the great privilege of meeting and engaging with as a result of my work in the world. These are people I am moved by and who inspire me and I hope that they move and inspire you, too.
---
Support the Podcast
If you find these episodes helpful, please consider making a contribution so that we can make more available. Any amount, no matter how small, goes a long way in helping us continue this very important work.
---
Be a Sponsor
You or your company can also sponsor one or more episodes of the Sacred Stream Radio Podcast. Email us at info@sacredstream.org to learn more about becoming a sponsor. Many thanks to our 2020 sponsors – Leadership Landing, Riverene, Ideas with Impact, and Charlotte von der Hude.
---
Latest Episode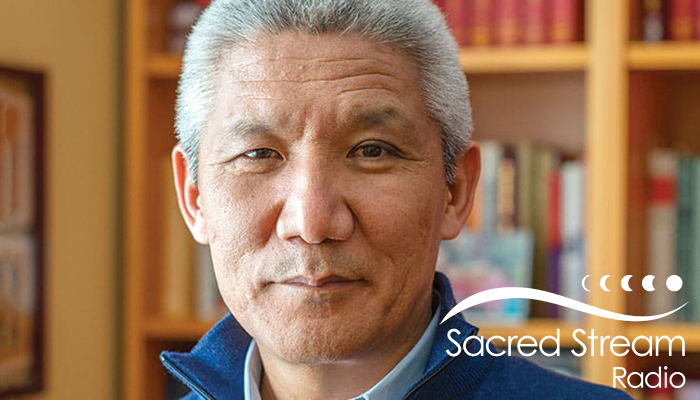 Podcast: Episode 85: Thupten Jinpa: Mindfulness in the Modern Era
June 10, 2022
On this episode, we reach back into the archives for this talk by esteemed author and Buddhist scholar, Thupten Jinpa, Ph.D., given at the Sacred Stream Center in Berkeley, CA, in 2018. Jinpa is a longtime friend and advisor to the Sacred Stream and he is the author of several books, including A Fearless Heart: How the Courage to Be Compassionate Can Transform Our Lives and Tsongkhapa: A Buddha in the Land of Snows. In this talk, Jinpa discusses the universality of spiritual traditions, his relationship with the Dalai Lama, and the modern mindfulness movement.
Jinpa has been the principal English translator to HH the Dalai Lama since 1985. He is a Tibetan Buddhist scholar, former monk, and has received the Geshe Lharam degree, as well as a Ph.D. in religious studies from Cambridge University. He is a professor at McGill University, has translated and edited more than ten books by the Dalai Lama. He established the Institute of Tibetan Classics, is an active board member of the Mind and Life Institute, the Founder and Chairman of the Compassion Institute, and is a visiting research scholar at the Stanford Institute for Neuro-Innovation and Translational Neurosciences at Stanford University.
Featured Episodes
Bonus Episodes
Previous Episodes