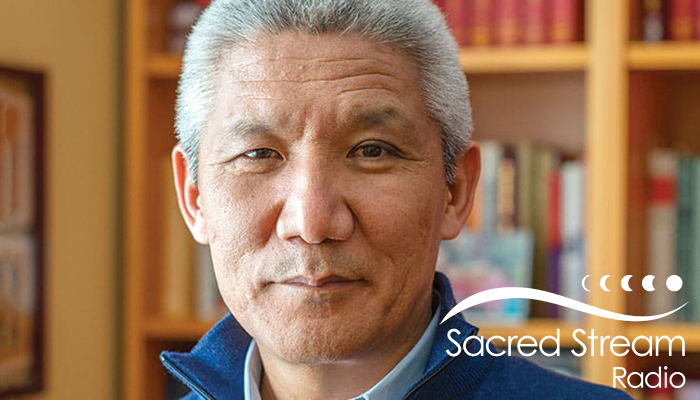 Podcast: Episode 85: Thupten Jinpa: Mindfulness in the Modern Era
June 10, 2022
On this episode, we reach back into the archives for this talk by esteemed author and Buddhist scholar, Thupten Jinpa, Ph.D., given at the Sacred Stream Center in Berkeley, CA, in 2018. Jinpa is a longtime friend and advisor to the Sacred Stream and he is the author of several books, including A Fearless Heart: How the Courage to Be Compassionate Can Transform Our Lives and Tsongkhapa: A Buddha in the Land of Snows. In this talk, Jinpa discusses the universality of spiritual traditions, his relationship with the Dalai Lama, and the modern mindfulness movement.
Jinpa has been the principal English translator to HH the Dalai Lama since 1985. He is a Tibetan Buddhist scholar, former monk, and has received the Geshe Lharam degree, as well as a Ph.D. in religious studies from Cambridge University. He is a professor at McGill University, has translated and edited more than ten books by the Dalai Lama. He established the Institute of Tibetan Classics, is an active board member of the Mind and Life Institute, the Founder and Chairman of the Compassion Institute, and is a visiting research scholar at the Stanford Institute for Neuro-Innovation and Translational Neurosciences at Stanford University.
LIKE WHAT YOU HEAR? SIGN UP FOR FREE UPDATES!