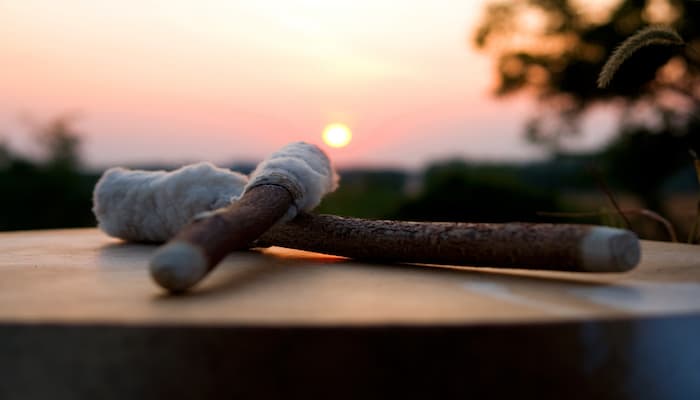 Special Announcement: Sacred Stream Listed as a Top Place to Try Shamanism on Head + Heart
We are thrilled that the Sacred Stream has been named one of the top places to explore Shamanic ceremonies in San Francisco by Head + Heart, an online platform that helps connect people with mindful events, experiences and community across the USA and Canada. The Sacred Stream offers classes and training programs in Applied Shamanism, including certification in Applied Shamanic Practice & Plant Medicine Integration. For more information about our classes and training programs, visit our Applied Shamanism website. Here you can find articles, videos, podcasts, and other resources to support you in your study of shamanism.
Founded in 2002 in Berkeley, CA, the Foundation of the Sacred Stream (FSS) is a non-profit organization and school for consciousness studies dedicated to bringing the wisdom of ancient spiritual and healing traditions into the awareness of contemporary society. It was created on the basic principle that there is a common source of wisdom that underlies all authentic spiritual, cultural and artistic traditions that informs and enlivens them. The FSS offers a core set of workshops in Depth Hypnosis, Applied Shamanism, Applied Buddhist Psychology, Integrated Energy Medicine and Empowered Living. It also hosts a concert series and guest lectures series. Through these programs, the Foundation seeks to make these traditions more accessible to the community and empower individuals, like you, to experience themselves and the world in new ways.
Students who successfully complete the Applied Shamanism training and certification become members of the Circle of Shamanic Practitioners, bringing the ancient wisdom of shamanic practice into the modern context by working with clients to address physical, emotional, mental and spiritual imbalance. The FSS also offers a number of community resources, including healing circles, affordable shamanic clinics, space clearing services, and drum circles. For a list of upcoming Applied Shamanism classes, circles, and special events, browse our Applied Shamanism calendar.
About Head + Heart
Head + Heart is an online calendar and platform designed to connect people with spiritual and wellness events, teachers, tips, and real life community. Whether you're looking for a meditation workshop or a yoga retreat, want to explore spiritual teachings, attend a sangha, join a community, or discover ways to raise your consciousness, Head + Heart can support your journey. Check out Head + Heart's list of best and upcoming Shamanic events & ceremonies in SF here.