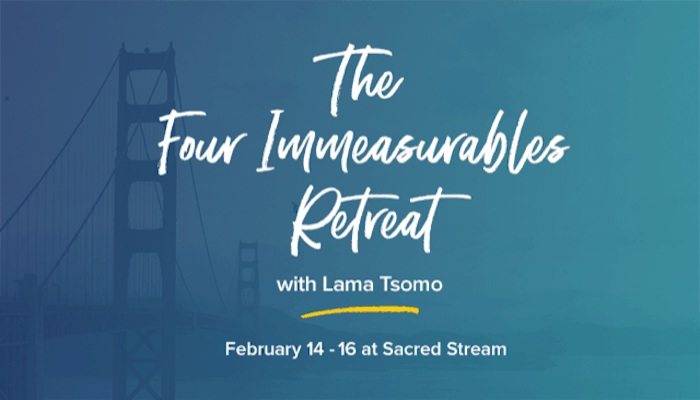 Community Event: The Four Immeasurables Retreat: Cultivating Vast and Profound Connection with Lama Tsomo
Join Lama Tsomo in an intimate weekend workshop in Berkeley focusing on the Tibetan Buddhist practice of the Four Immeasurables. This workshop is about transforming your life by learning to cultivate a limitless heart.
Love and compassion aren't just feelings—they are capacities we all have the ability to cultivate. Yet the trappings of modern times often distract us. How can we open our hearts to experience an expansive sense of love and true connection?
By engaging The Four Boundless Qualities, known in the Tibetan Buddhist tradition as the path to cultivate a limitless heart, we can experience a level of awareness in which isolation and the sense of separation dissolves and we feel our natural connection to one another and to the world.
Rooted in the ancient wisdom of Tibetan Buddhist tradition, the meditation practices known as The Four Boundless Qualities (or Immeasurables) provide different avenues to break free of isolation and experience the feeling of true connection to all and everyone.
During this intimate weekend retreat, meditation teacher and award-winning author Lama Tsomo will introduce you to these ancient teachings in a modern way. You'll learn meditation practices focused on each of the four qualities:
• Compassion
• Loving-kindness
• Sympathetic Joy
• Equanimity
These practices can be easily incorporated into everyday life, empowering you to open your heart, remove ill will, and live a happier life. This retreat is suitable for anyone who wants to bring more peace and connection to their life. No previous meditation experience required!
Schedule
The weekend will follow a flow of teaching, practice, and reflection – both solo and group.
Friday, February 14: 6:30 pm – 9:00 pm
• Introduction to The Four Boundless Qualities
• Compassion practice (Tonglen)
Saturday, February 15: 10:00 am – 6:00 pm
• Shamata practice
• Introduction to Sympathetic Joy and Loving-kindness
• Science of meditation
Sunday, February 16: 10:00 am – 5:00 pm
• Introduction to Equanimity
• Incorporating these practices into everyday life
• Group reflection
• Methods for living boundless
Tuition
Our intention is to make this workshop accessible to all. Please choose the tuition amount that works for you. If the program costs present a financial barrier or you are interested in a stipend to offset the cost of childcare, please contact amanda@namchak.org. To register, visit eventbrite!
Note
Beverages and snacks will be provided. Lunches will be on your own. There will be ample time to leave the premises for lunch nearby.