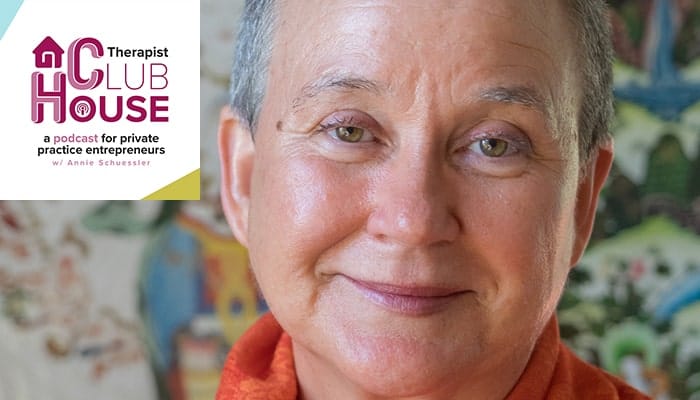 On the Air: Therapist Clubhouse: Making Business Sacred with Isa Gucciardi
If you believe being of service or being spiritual doesn't go with making money, this conversation is for you. Isa Gucciardi, the creator of Depth Hypnosis and founder of The Sacred Stream, believes that money and life energy can be in alignment. When you reject money, she believes you limit how much help you can give. Listen as she describes how she has developed her services far beyond the therapy room over the last 30 plus years. You'll hear both the tactical stuff and the theories behind her tactics.
Listen above or on your favorite podcast platform.
Topics Discussed In This Episode
• Creating the structure for your business as it expands (structure and energy…)
• Building a healthy relationship with money
• Debunking the myth that service means poverty
• Working with her life partner
• Constantly updating and refining her marketing
• Growing the impact of her work while not burning out
• Finding ways to serve more and more people
• Prioritizing service as the highest priority in business
About Isa Gucciardi
Isa Gucciardi is the Founding Director and lead teacher of the Foundation of the Sacred Stream, a school for consciousness studies dedicated to bringing the wisdom of ancient spiritual and healing traditions to contemporary society.
She is the creator of the groundbreaking therapeutic model, Depth Hypnosis, which was born from her studies in transpersonal psychology, cultural and linguistic anthropology, comparative religion, hypnotherapy, and transformational healing.
In her counseling practice, Isa combines depth hypnosis and other elements from shamanism, Buddhism, and transpersonal psychology to guide people in process of conflict resolution.
About Therapist Clubhouse
Hosted by Annie Schuessler, the Therapist Clubhouse Podcast is the place to get support in being a private practice entrepreneur. In every episode, we'll hear the story of a therapist who created the business only they could create. You'll hear how they figured out stuff like online marketing, networking, identifying their niche, setting their fees, creating new services, and developing an entrepreneurial mindset. You'll hear about their struggles too.