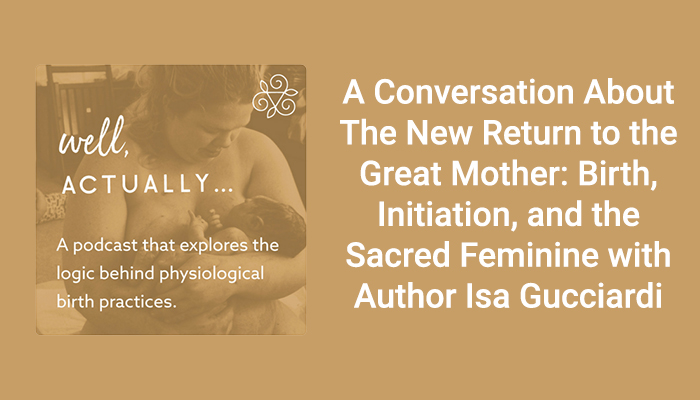 On the Air: Well, Actually… Podcast: A Conversation About The New Return to the Great Mother with Author Isa Gucciardi
Isa is the author of The New Return to the Great Mother: Birth, Initiation, and the Sacred Feminine and I had her on the podcast to share more about how we might implement these incredible tools and perspectives into the work we are doing as mothers, doulas and midwives. Join us as we explore Isa's background, including her experience during the '70s and '80s during the renaissance of home birth, her birth experiences as a medical interpreter, and how her meditation for connecting with The Great Mother has impacted many thousands of women already. I am really excited to have her book to hand out to clients at the first visit, so that she can come to her second visit ready to more explore her relationship with her body, her spirituality, and the initiations she has already been through. All so that we can help her ready and steady herself as she prepares for BIRTH, one of the most intense initiations of all.
About Isa Gucciardi
Isa Gucciardi, Ph.D. is the Founding Director of the Foundation of the Sacred Stream, a school for consciousness studies in Berkeley, CA. Isa is the creator of the spiritual counseling model, Depth Hypnosis, and the author of Coming to Peace and The New Return to the Great Mother. In addition to her teaching schedule that includes teaching classes in Applied Buddhist Psychology, Applied Shamanism, Integrated Energy Medicine and Depth Hypnosis, she has active practices in Depth Hypnosis and Applied Shamanic Counseling in San Francisco, CA.
About the Well, Actually… Podcast
Well, Actually… explores the logic behind physiological birth practices. Host Margo Blackstone brings together her favorite information, ideas and quotes to synthesize her thoughts on a variety of topics, some you may never have thought about before, and some you may find yourself rethinking. This podcast is a production of the Indie Birth Association and indiebirth.com.