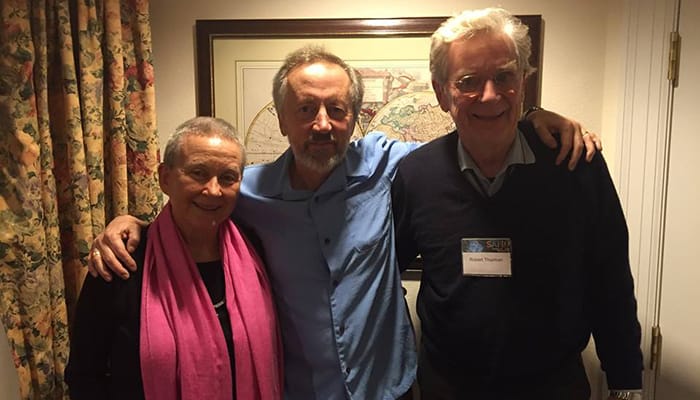 On The Air: Buddha at the Gas Pump Episode #424: Robert Thurman & Isa Gucciardi
Rick Archer created Buddha at the Gas Pump in the Fall of 2009 and has since interviewed countless spiritually awakening people, from the well-known to the unknown, and from a variety of backgrounds and traditions. He conducts a new interview each week in hopes to help ordinary people share their experience of awakening.
In this episode, Archer speaks with renowned Buddhist scholar Robert Thurman, author of Man of Peace: The Illustrated Life Story of the Dalai Lama of Tibet, and Depth Hypnosis creator Isa Gucciardi, author of Coming to Peace: Resolving Conflict Within Ourselves and With Others. This talk was recorded October 19, 2017 at the Science and Nonduality Conference.
About Robert Thurman:
Robert A.F. Thurman is the Jey Tsong Khapa Professor of Indo-Tibetan Buddhist Studies in the Department of Religion at Columbia University, President of the Tibet House U.S., a non-profit organization dedicated to the preservation and promotion of Tibetan civilization, and President of the American Institute of Buddhist Studies, a non-profit affiliated with the Center for Buddhist Studies at Columbia University and dedicated to the publication of translations of important artistic and scientific treatises from the Tibetan Tengyur.
Time Magazine chose Professor Thurman as one of its 25 most influential Americans in 1997, describing him as a "larger than life scholar-activist destined to convey the Dharma, the precious teachings of Shakyamuni Buddha, from Asia to America." The New York Times recently said Thurman "is considered the leading American expert on Tibetan Buddhism." Thurman is known as a talented popularizer of the Buddha's teachings. He is a riveting speaker and an author of many books on Tibet, Buddhism, art, politics, and culture.
About Isa Gucciardi:
Isa Gucciardi, Ph.D. is the Founding Director of the Foundation of the Sacred Stream, a school for consciousness studies in Berkeley, CA. Isa is also the creator of the spiritual counseling model, Depth Hypnosis. In addition to her teaching schedule that includes teaching classes in Applied Buddhist Psychology, Applied Shamanism, Integrated Energy Medicine and Depth Hypnosis, she has active practices in Depth Hypnosis and Applied Shamanic Counseling in San Francisco, CA.
Discuss this episode in the Batgap Community Facebook Group. Watch the video below, and subscribe to BATGAP's YouTube channel for future episodes. Audio available on iTunes.