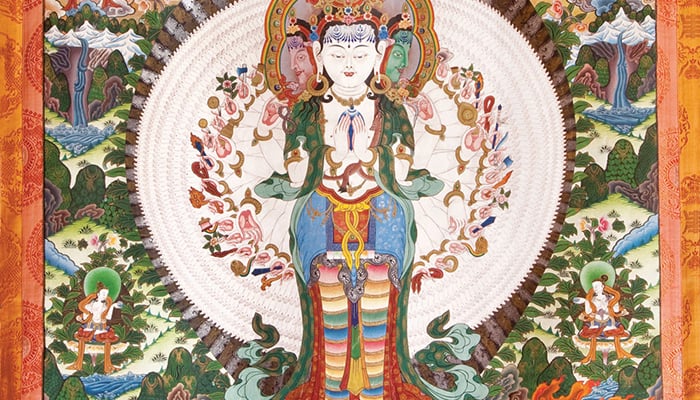 Video: Isa Gucciardi, Ph.D.: Reading Thangkas: Avaloketishavara and the Images of Compassion
Thankgas are paintings on fabric that often depict meditational deities or subjects. Popular throughout the Himalayas for centuries, they have provided a teaching and practice tool to help students deepen their understanding of a particular deity or subject. There are many images of Avaloketishavara or Chenrezig as they are known in Tibetan.
In this talk with the San Francisco Dharma Collective, Isa Gucciardi explores these images of compassion and the wisdom of the deities depicted therein.
Note: Isa references this thangka in the talk. It is recommended that you view the image while watching the video. Prints of the thangka are avilable for purchase in the Sacred Stream web store.
About Isa Gucciardi
In the mid-nineties, Isa began developing Depth Hypnosis as she entered into clinical practice. Her studies, both in academia and in the field, of cultural and linguistic anthropology, comparative religion, and transpersonal psychology formed the basis of her approach with clients and students. As the body of work that grew out of her clinical practice became larger, she began teaching others so that more people could benefit from the techniques she had developed. In order to accommodate the number of classes that grew out of this process, she co-founded the Foundation of the Sacred Stream, which is now a school for consciousness studies in Berkeley, California, serving hundreds of students each year.
Isa teaches and speaks nationally and internationally, and she has published numerous articles, podcast episodes, and videos, and the books Coming to Peace and Return to the Great Mother. She maintains a private practice with institutions and individuals in Depth Hypnosis and Coming to Peace processes. Isa speaks five languages and has lived in eleven countries. She is the mother of two children and lives with her partner in San Francisco.
About San Francisco Dharma Collective
SFDC creates a welcoming and inclusive space for community, meditation, and transformation through diverse teachings and practices.
The SF Dharma Collective makes a continuing effort to establish programming for groups outside the dominant culture who might otherwise not assume that their needs are seen or their selves are welcome. The SFDC invites affinity groups that wish to meet for the purpose of community, meditation, and studying dharma. Study groups formed for the purpose of examining privilege or unlearning bias through dharma-based practices are also welcomed here. Groups are open to self-identified members of the population for whom they are intended as well as supportive individuals (allies).