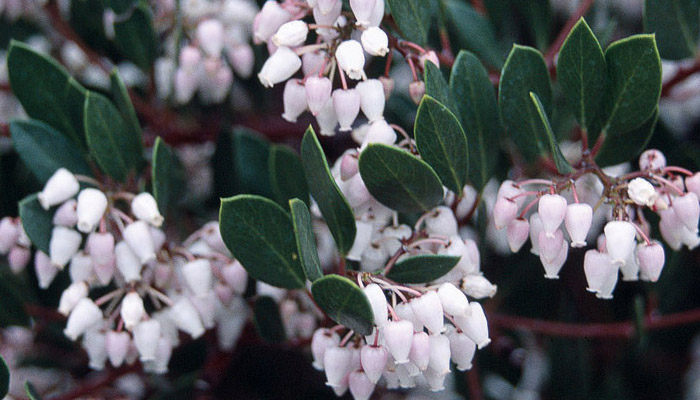 Blog: Lessons of the Manzanita Tree
By Clementine Moss
Editors' Note: Clementine Moss is a Depth Hypnosis Practitioner and Applied Shamanic Counselor. As a professional musician, she developed ways of connecting to the true self field of consciousness in order to be present fully as a performer. Clem's music career as a rock drummer, though seeming unlikely for a healer, has provided a perfect metaphor for her when assisting clients in opening to the flow of infinite potential. She writes about the intersection of spiritual practice and a music career at BlissandDrumming.com.
---
North Fork, California is the site of the gorgeous Vipassana meditation center at which I have spent a couple of 10-day retreats. On foggy mornings at my home in San Francisco, I often think of the early morning walk to the meditation hall, and the faces of the single yellow daffodils lining the path up the hill.
In one of the retreats, I became fixated on the manzanita trees, their dark red spindly trunks, the light green color of the leaves, the pink hanging bouquets of flower. It is inevitable that the senses become more vibrant when meditating for ten hours a day. The contrasting colors of the manzanita were almost too much to bear.
I fantasized about having a garden of manzanita one day, how it would be to set out a picnic among such a gorgeous color combination. I wanted to wrap myself in these colors and shapes. I guess, really, I was longing to be a bird.
Since then, I have tried with limited success to see manzanita trees in the same way. Maybe I just haven't come across them at that exact time of their blooming. Maybe the trees at the retreat center are extra beautiful because of the energy of the thousands of meditators passing by, hearts opening to the field of love vibration on which all reality sits. Maybe this kind of energetic food makes the trunks a little redder, the green of the leaves more arresting, shocking against the red.
In The Shaman Within, Claude Poncelet writes of shamanic practices that entail traveling to the spirit of a tree, or a rock, or the ocean, and becoming the being. He merged with a mountain to understand what the mountain had to teach.
I felt the wind upon my sides. I felt deep compassion for all creatures and beings living upon me – trees, bushes, mammals, birds, snakes, insects, humans. I felt love, and I cared for all. I knew I was being taught being, becoming, and compassion and that these qualities were somehow being imprinted in me. I retransformed very slowly and thanked the mountain. I felt peaceful and connected, part of the One.
Driving to Sacramento from San Francisco, I once came through the high yellow hills into the strip malls of Vacaville, and I was suddenly startled by the personality of a low green hill a little way back from the highway.
I hadn't been noticing the natural world as I drove, and the hill shocked me, as if somehow calling for my attention. It was joyful and perky, that hill. I saw how behind this web of traffic and asphalt and commerce was this gorgeous, squat little being, just happy to be recognized.
Communicating with our natural world seems more and more important as we move forward. With each modern natural disaster, it is as if our society keeps being shocked as nature draws attention to itself. I think of that little hill, huddled in noise and grime and yet transmitting joy. I'm here if you want to take a look! Just hanging out loving you!
In shamanic journeys to my guides, I ask for answers. I asked, How can I help the world?
What I heard was:
The world helps you. Let the world love you. Allow the world to love you. Allow the world to show you its beauty. Allow the world to show you its kindness. Allow yourself to be loved. You have to learn that you're able to be loved.
Allow the world to love you. Allow the world to sing your song. Allow love to flow, it is the only answer to every question. Allow love to flow into action.
I think of those manzanita trees on that beautiful land, a property devoted to providing space and time for people to freely connect with the truth of being. We are connected, those trees. Having communed deeply once, so forever. I imagine my love for them infusing their branches, protecting them from forest fires, and from the thoughtlessness of humanity's forgetfulness.
Receive a free Equanimity Meditation download when you subscribe to the Sacred Stream mailing list.
ENJOYING THE STREAM OF CONSCIOUSNESS BLOG? SIGN UP FOR FREE UPDATES!