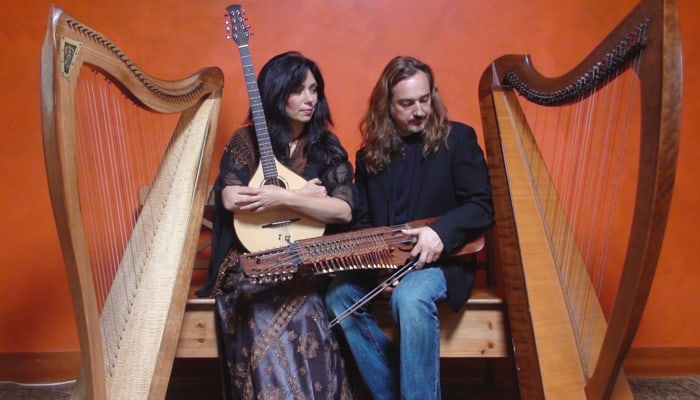 Special Announcement: Lisa Lynne and Aryeh Frankfurter in Concert
Windham Hill and Sony recording artist Lisa Lynne is joined by multi-instrumentalist Aryeh Frankfurter for an evening of traditional instrumental music from Sweden and Ireland, as well as heartwarming original compositions blended with stories of humor and adventure. Together they play two Celtic harps, the rare Swedish nyckelharpa, Ukrainian bandura, cittern, and more. Lisa Lynne's recordings have repeatedly placed in the Top 10 and Top 20 on the Billboard New Age music charts. The Sacred Stream's own award-winning songwriter and recording artist, Laura Chandler, opens the show.
The concert will be held at the Sacred Stream Center at 2149 Byron Street in Berkeley on Friday, July 22 at 8:00 pm. Admission is $15 in advance; $20 at the door. Student and senior discount is $10. To reserve your seat, register online, call (415) 333-1434, or email info@sacredstream.org.
About the Performers
Lisa Lynne is a multi-instrumentalist and performer who has gained worldwide recognition for her original music featuring the Celtic harp. She is widely acclaimed for composing memorable and heartwarming melodies on the Windham Hill and Sony music labels. Lisa tours year-round performing at world-class US festivals and performing arts centers. Her work in therapeutic music and "Hands-on-Harps" programs have gained national recognition on NBC, CNN, Fox News Atlanta, and the Wall Street Journal, to name a few. Lisa's music appears on the award winning PBS special "Alone in the Wilderness," and has been featured on commercial television and independent films. Los Angeles Magazine recently named Lisa one of the 50 most inspiring women. She performs regularly as a solo artist, and with Aryeh Frankfurter, Patrick Ball, and the Windham Hill tours. For more information, visit lisalynne.com.
Aryeh Frankfurter is a renowned Celtic harper and world traveling multi-instrumentalist who went from virtuosic progressive rock violin to intricate Swedish folk and Celtic Music. He began with Classical violin at the age of three. His early studies and successes led him to explore various ethnic and international musical genres. Aryeh has performed for Prince Charles and at many of the world's top International music festivals. He has 17 albums to his credit, composes for film and television, and continues to teach himself to play a variety of instruments, most recently the rarely seen Swedish Nyckelharpa. Learn more about his critically acclaimed work at lionharp.com.