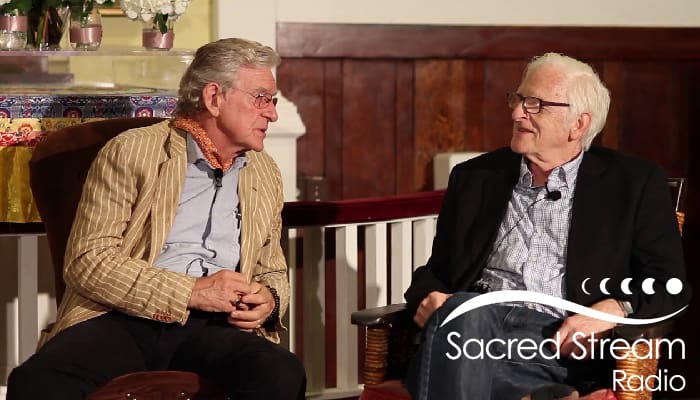 Podcast: Episode 59: Matthew Fox and Robert Thurman: Cultivating Peace in Difficult Times: Part 1
February 21, 2020
Description: On this episode, we dive into the archives to bring you a historic conversation between Christian theologian Rev. Matthew Fox and Buddhist scholar Robert Thurman. This talk on Cultivating Peace in Difficult Times took place at the Sacred Stream Center in 2017 and was moderated by Isa Gucciardi. We will be releasing this talk in three parts over the next few weeks. In part one, Bob and Matt offer thoughtful and sometimes humorous ideas about how we can cultivate peace individually and collectively. They talk about what led them to their respective spiritual paths and how they have navigated obstacles along the way.
Robert Thurman is the co-founder of Tibet House U.S., a bestselling author, and is recognized worldwide as an authority on religion, spirituality, Asian history, Tibetan Buddhism, and the Dalai Lama. Matthew Fox is an expert on Christian mysticism and Creation Spirituality, and an author of over 35 books, including the New York Times bestseller, The Coming of the Cosmic Christ.
LIKE WHAT YOU HEAR? SIGN UP FOR FREE UPDATES!