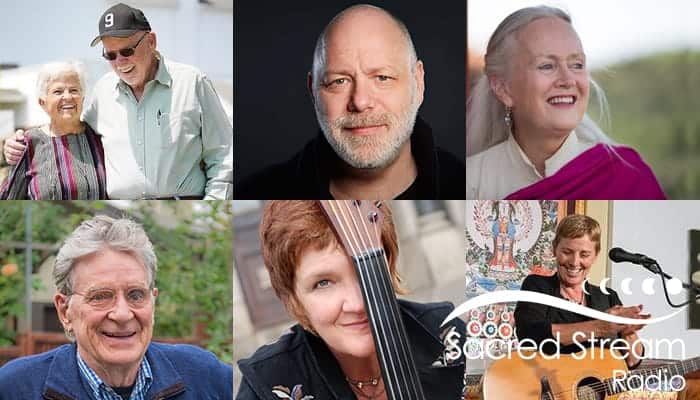 Podcast: Episode 47: 2018: A Retrospective
December 31, 2018
In this episode, Laura Chandler takes a look back over the past year of interviews, revisiting key moments with inspiring guests that include renowned channel Paul Selig, activist and former nun Margarita Melville, and the exquisite electric cellist Jami Sieber. And you'll also hear some new conversations with Robert Thurman and Lama Tsultrim Allione.
It features music from some of the great musicians that have been on the show, including Grammy nominee and future guest Barbara Higbie, world music vocalist Lisa Kelman, the monks of Gaden Shartse Dokhang, Jami Sieber (featuring the elephants of the Thai Elephant Orchestra), and NuJazz artists The Allure (with guest vocalist Isa Gucciardi).
This episode begins with eighty-eight-year-old activist and former nun Margarita Melville, who in the 1960s, left the Maryknoll sisters to join the Guatemalan resistance, and was dubbed "The Guerrilla Nun." After barely escaping with her life, she and her husband, former Maryknoll priest Tom Melville, joined a group of activists in the US and became part of a famous civil action known as the Catonsville Nine. Here she talks about her escape from Guatemala and the action that sent her to prison.
Lama Tsultrim Allione talks to Laura about her experience of the death of one of her teachers, the great Tibetan Dzogchen master Chögyal Namkhai Norbu Rinpoche. He died on September 27, 2018 and is said to have entered a state known as tugdum.
Best-selling author and channel Paul Selig had a spiritual experience 25 years ago that left him clairvoyant. Nine years ago, he began channeling a group he refers to as "The Guides." In this segment, he talks about his role as a channel and the awareness of the Divine.
Jami Sieber talks about her time in Thailand and her first mystical encounter meeting and playing music with the Thai Elephant Orchestra, which became the inspiration for her album, Hidden Sky.
And in the final segment, Laura catches up with Robert Thurman at the Science and Non-Duality Conference in San Jose. They talk about one of his favorite subjects, nothing.
A Note From Laura Chandler: I want to take a moment to thank all of our generous supporters and volunteers who help make the Sacred Stream Radio Podcast possible. I began this podcast as a labor of love and to share the stories of the remarkable, talented, famous, and not-so-famous people I have the great privilege of meeting and engaging with as a result of my work in the world. These are people I am moved by and who inspire me, and I hope that they move and inspire you, too.