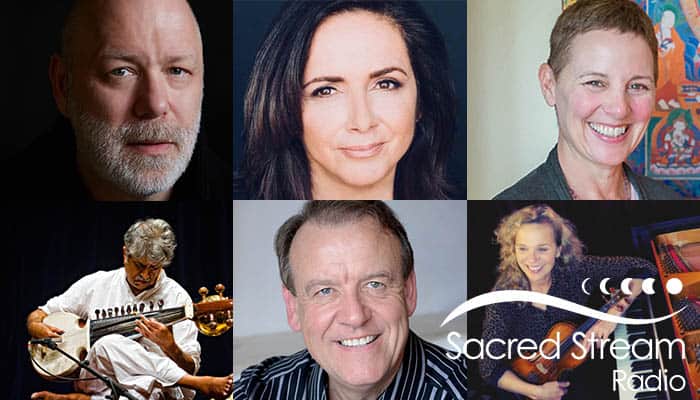 Podcast: Episode 57: 2019: A Retrospective
December 23, 2019
Description: This episode is a retrospective of some of the highlights of the past year. You'll hear excerpts from Laura Chandler's interviews with bestselling authors Dawson Church and Christina Rasmussen, Grammy nominee Barbara Higbie, and renowned channel and author Paul Selig. Our featured music includes songs from Barbara Higbie, Dan Walters, and master sarod player Rajeev Taranath, as well as Sacred Stream's very own Katie Rudman and her duo, Heddwen.
The episode begins with Dawson Church, the bestselling author of The Genie in Your Genes: Epigenetic Medicine and the New Biology of Intention and Mind to Matter: The Astonishing Science of How Your Brain Creates Material Reality. Dawson and Laura discuss Quantum physics, the science behind manifestation, and Dawson's contagious enthusiasm for meditation.
Celebrated grief educator and founder of The Life Reentry Institute, Christina Rasmussen, met with Laura in April to discuss her second book, Where Did You Go?: A Life-Changing Journey to Connect with Those We've Lost. In this segment, she explains what drew her to work in the field of grief and the personal tragedy that was the catalyst for her book. They also have an unexpected visitor.
Acclaimed author and channel Paul Selig returned to the podcast this year to talk about his latest book, Beyond the Known: Realization. Paul received his Master's Degree from Yale and served on the faculty of NYU for over 25 years. A spiritual experience in 1987 left him clairvoyant and he has channeled seven books by a group he calls The Guides. He and Laura talk about the changes that are to come on the planet and what The Guides are offering to help us prepare.
This final segment is from Laura's interview with Grammy-nominated, Bammy award-winning composer, pianist, singer-songwriter, and multi-instrumentalist, Barbara Higbie. She is both a successful solo artist and popular session player with fourteen albums to her credit, and has performed on more than 100 albums, including Carlos Santana's 2007 release. In this excerpt, Barbara's cheerful demeanor is on full display as they talk about her early success, the difficulties she faced as a woman in the industry, and how things have changed today.
LIKE WHAT YOU HEAR? SIGN UP FOR FREE UPDATES!